Active Pharmaceutical Ingredient Division:
We possess a state-of-the-art laboratory. Our laboratories are equipped with sophisticated analytical and performance testing equipment to ensure our products meet the performance requirements needed by our customers. Considerable research is carried out, both in the development of existing products as well as into new chemical entities and products. Our scientists are pivotal in bringing forth authentic and pure chemicals.
The Active Pharmaceutical Ingredient Intermediates Research and Development Department at Vishal Laboratories supported by well operational units. These R & D units are also recognized by the Department Industrial Research and are supported by amenities required for scale up of the processes from grams to kilo as well as to Pilot Plant level. The major activities of the division include:
Process/Technology development and improvements to make products competitive and profitable in the extensive way by giving foremost prominence on:
– Unconventional cost effective routes
– Non-infringing procedures
– Growing plant friendliness
– Green chemistry
– Novel polymorphs
– Environment responsiveness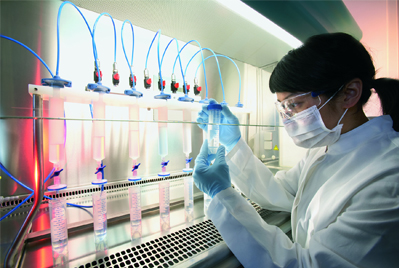 – Analytical method development & validation
– Specification for raw material development
– Inclusion of in-house tests
– Analysis of active ingredient and metabolite
– Impurity profiling of API's
The Biotech research department is involved in expansion of cost effective procedures for the manufacture of biologically and fermentation driven drugs and intermediates. With most recent technology, suitable proficiency and precious pipeline of fermentation products, Vishal Laboratories is all set to become a major player in the significant field. The Biotech department deals with Microbial fermentation process which includes conservative and mutation screening a variety of microorganisms with extensive tremble flask studies further to fermentation and downstream dispensation. The biotech research is additional involved in development of recombinant DNA based proteins to create its space in global Bio-generics markets.
Drug Discovery/Development:
Realizing the importance of discovering New Chemical Entities (NCE's) in the hunt of proprietary position in the current IP organization, Vishal Laboratories is enthusiastically occupied in the segment by collaborating with various research organizations and premier institutes in India. At present pipeline includes pain-management, anti-ulcer and antimalarials.
Intellectual Property Management:
Supported by highly qualified and expert personnel IP (Intellectual Property) cell is responsible for protecting the IP generated by Ipca and the collaborators. IPM department is also responsible for providing infringement analysis for the in-house APIs to customers and their legal partners